Fruit Leather is a great snack you can take with you anywhere. It is small, light and doesn't require refrigeration. This month the Eat the World group challenged us to come up with a recipe from Georgia. Georgia is a country south of Russia. I wasn't familiar with traditional recipes from this area so I read this article and was so happy to find Tklapi. I've been making Fruit Leather, also known as Tklapi, since I was very young.
My family had the wonderful benefit of growing up near ranches and knowing ranchers who grew fruits and nuts. In addition, my grandfather had worked at an ice plant where they stored fruit during transport from one location to another by train. I doubt such a thing exists anymore, we did see a display about this in a museum that was interesting. Anyway, what that all meant was that we sometimes had access to large quantities of fresh off the tree fruit. One friend grew apricots. They are tricky, you must do something with them right away or they will spoil. I personally love apricots as did many in my family, so we made apricot fruit leather. We've also done many other flavors and today I will be making plum fruit leather.
Fruit leather is very easy to make. I only use fresh fruit and applesauce. I prefer not to use sugar in the recipe as it can give it a bit of a grainy texture plus, I think it's good to eliminate sugar where we can. Fruit tends to be quiet sweet all by itself, but if you are working with a fruit than can be a bit tart, adding applesauce will naturally sweeten the fruit without changing the flavor too much.
Prep your fruit
Wash and cut your fruit, in this case plums. Be sure to remove the pits. Place the cut fruit into a blender. If desired, add applesauce. Blend until the fruit is a smooth puree.
Start dehydration
If you are using a dehydrator with sheets, spray the sheets lightly with a cooking spray. Pour the fruit puree onto the sheet. Make sure you don't overfill but push the mixture right to the edges. Repeat until all the fruit mixture has been used.
Stack your trays and then turn on the dehydrator. It will take about 8 hours to fully dry, but be sure to check along the way, starting about four hours into the dehydration cycle. You can also move the trays around to provide for a more even drying (take the top and put it on the bottom and rotate the others as well).
Dehydrate with oven or sun
If you do not have a dehydrator, you can use your oven. Line cooking sheets with parchment and pour the puree onto the parchment. Leave an edge so the fruit doesn't overflow the parchment. Place the baking sheet into the oven preheated to 135 degrees and bake at least four hours. You may need to dehydrate up to 8 hours.
The last option that I know of, and the one we used when I was growing up, was the prepare the baking sheets as you would for placing in the oven, but instead place outside in direct sunlight and let the sun do the work. Be careful not to get leaves, dust or bugs into your fruit leather, no one wants that!
Fruit Leather Recipe
Fruit Leather
Total Time:
8 hours
10 minutes
Fruit Leather is a great snack you can take with you anywhere. It is small, light and doesn't require refrigeration.
Ingredients
4 cups pureed plums
2 cups unsweetened applesauce
Instructions
Wash plums and remove stones. Cut fruit in pieces and place in a blender. Add unsweetened applesauce and puree. Continue to add plums until you have a total of 6 cups of pureed fruit.
Prepare dehydrator sheets by spraying lightly with cooking spray.
Pour onto sheet but be careful not to run over the edge.
Stack trays onto the dehydrator, turn on and set the fruit setting.
Dehydrate for about 8 hours, be sure to check around 4 hours to see how it's progressing.
Nutrition Information:
Yield:

4
Serving Size:

1
Amount Per Serving:
Calories:

127
Total Fat:

1g
Saturated Fat:

0g
Trans Fat:

0g
Unsaturated Fat:

0g
Cholesterol:

0mg
Sodium:

2mg
Carbohydrates:

33g
Fiber:

4g
Sugar:

28g
Protein:

1g
Pin for later!
#EatTheWorld Recipe Challenge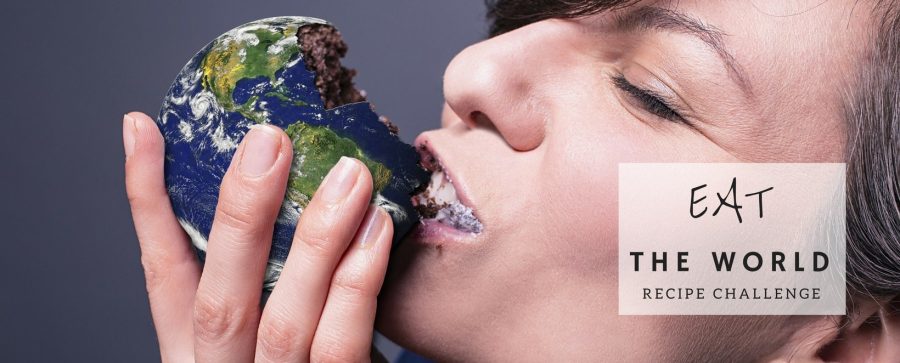 Check out all the wonderful Georgian dishes prepared by fellow Eat the World members and share with #eattheworld. Click here to find out how to join and have fun exploring a country a month in the kitchen with us!
---
This post may contain affiliate links, which means I receive a small commission from sales made through those links. Thank you for supporting this blog at no additional cost to you. Please see my full disclosure policy for details.